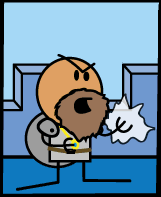 Oh, yes. I'm gonna make me some Durkon Thundershield. Well, a 5th Edition Cleric of the Tempest, anyway. But that's basically what I'm going for here. Well, he's human. But still . . . Durkon Lankyshield!
As the author notes in his wonderful document, nobody gets +2 to Wisdom, so the you have to choose among three races with a +1 to Wisdom:
Human: +1 to everything

Hill Dwarf: +2 to CON, +1 to WIS. Plus racial stuff.

Wood Elf: +2 to DEX, +1 to WIS, racial stuff.
I'm going with Human, because the ideal cleric as I've seen them played (and would tend to play them myself) is a first or second rank combatant. They don't have to be played this way, but I'm going for a general theme of "somewhere between useful and badass in combat" in my musings here, so there we go. If there were a race with +2 STR and +1 WIS, I'd go with that.
The Tempest domain has some really good stuff in it for laying waste to foes, so again, we go with that.
That gives a surprisingly effective combination, as will soon be seen.